Our product groups
Jumbos
Our extruded ice creams on a stick, dipped in a bath of delectable chocolate. As our largest and most innovative product group, we offer a wide range of these ice creams on a stick; in addition to the classic jumbos, with chocolate coating and with or without almond pieces, we also produce numerous mini versions and premium jumbos with solid pieces or sauce in the ice cream. Or sometimes even with a double coating! The jumbo is then treated to an extra layer of sauce between the ice cream and the chocolate coating. The ultimate in deliciousness on a stick!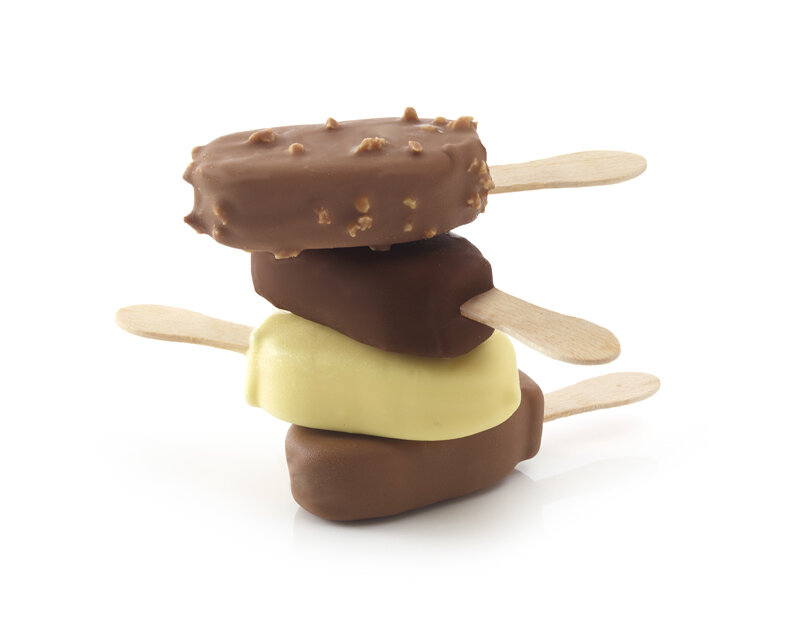 Cones
Of course, our product range would not be complete without the classic cones, a crispy biscuit cornet generously filled with numerous ice cream flavours and/or sauces and covered with sumptuous chocolate and extras such as hazelnut pieces. Our various cone and cornet production lines produce these popular ice creams in vast numbers. The packing of the cones is automated, and the boxes are shrinkwrapped or placed in cardboard cases. In addition to the traditional cones, we also offer premium versions with special sauces or extra layers of chocolate.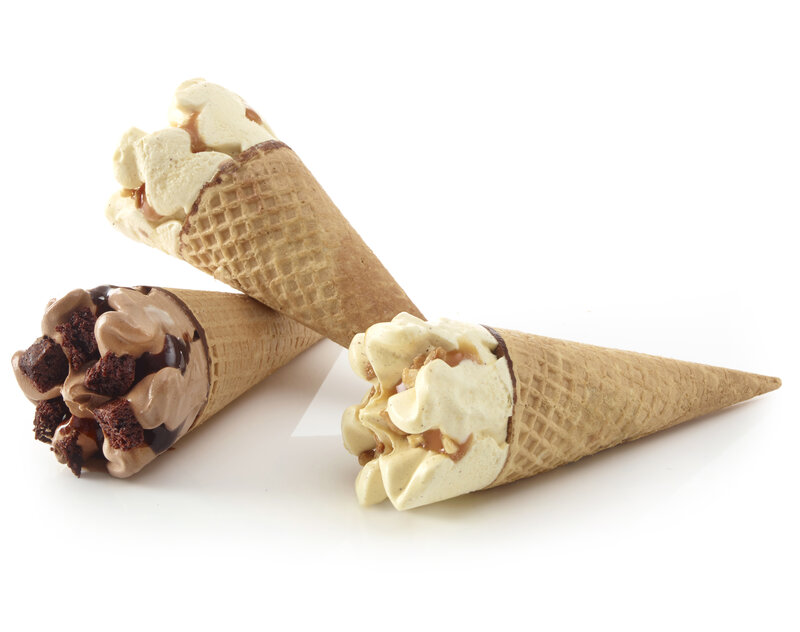 Scooping ice cream
We offer our delicious scooping ice cream in different tub sizes, from 700 ml to 5 litres. From the popular classics such as vanilla, chocolate or strawberry ice cream to the most surprising and successful combinations of ice cream mixes, inclusions, sauces and toppings. The latter segment in particular has experienced tremendous growth in recent years. The packaging has also evolved into premium containers with a raised lid to showcase the ornate filling.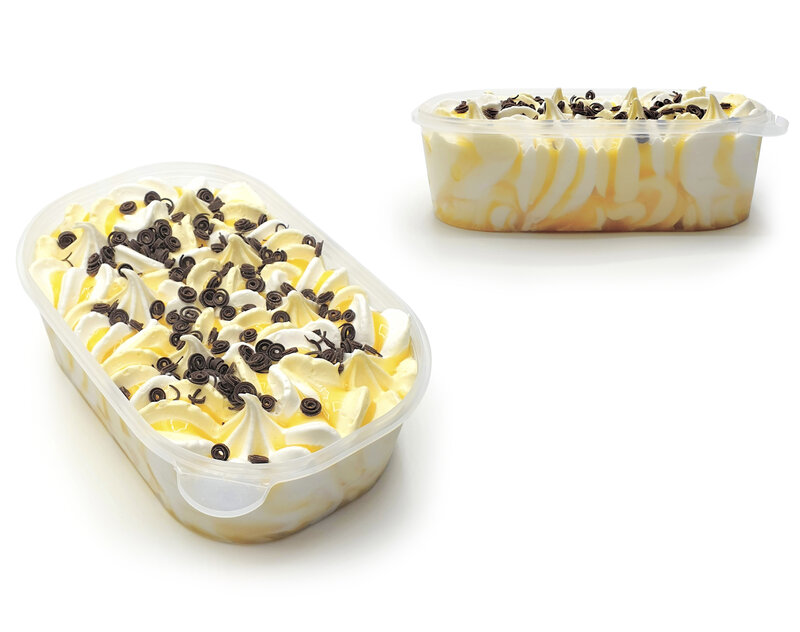 Moulded Sticks
Our classic chocolate sticks (friscos) are composed of ice cream coated in cocoa fantasy, with or without nuts or other tasty morsels.
On these production lines, we also make our popular rocket ice lolly and our fruit and water ice lollies in multiple flavours! Or our split, delicious vanilla ice cream with a fruit coating.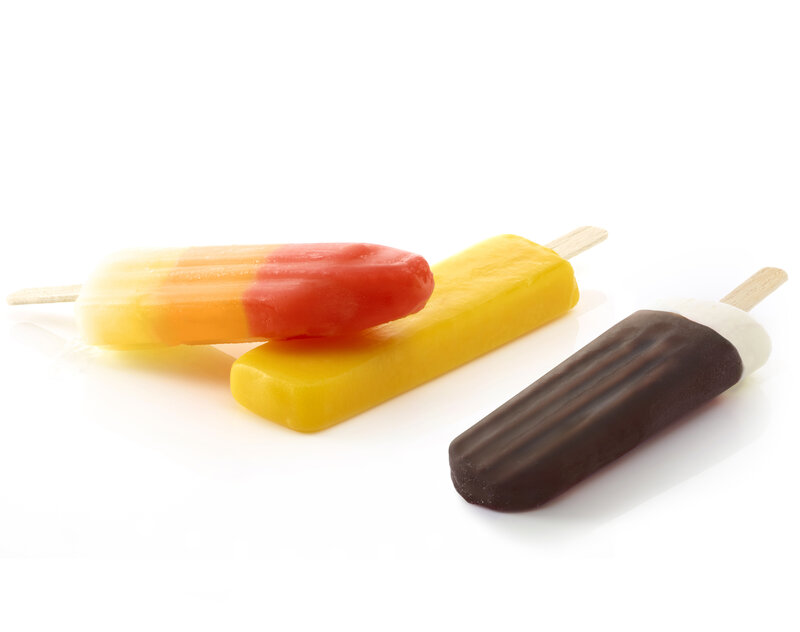 Cups
Our cups are loved for their convenient packaging as well as their content! The tastiest flavours in an easy cup. We can also mix different ice cream together in one cup, available in 80 and 100ml. Something for everyone!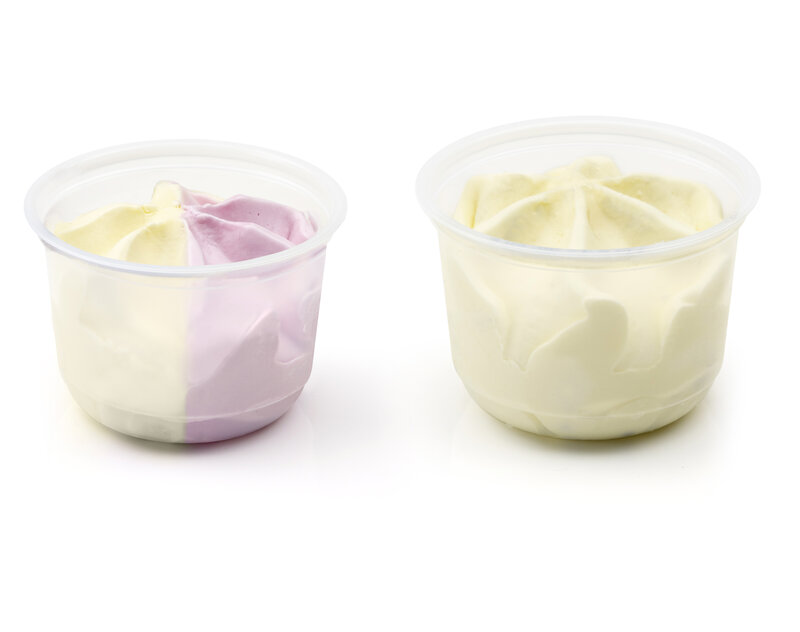 Cakes
You can celebrate any occasion with a delicious ice cream cake! We mainly produce ice cream cakes with delicious crunchy layers such as chocolate or biscuit or layers of fruit sauce. Divine! Our ice cream cakes are built up layer by layer, then cut and packaged. They come in different varieties, shapes and sizes, according to the client's needs.